Making a bad film doesn't mean you have to accompany it with a bad soundtrack. I suspect some of the filmmakers of the following films, in fact, got themselves in trouble by using wonderful, emotional, evocative music to cover plotholes, flawed scripts, bad performances or weak scenes, rather than using the music appropriately. Even soundtrack-making gods like Cameron Crowe fall into this trap on the occasion, he who so notoriously used music so appropriately and effectively in films like
Say Anything
or
Almost Famous
. I'm having some Internet troubles, so all the songs will be working by tomorrow.
Elizabethtown OST
: Cameron Crowe makes some great films, and obviously he's got quite an ear for putting together soundtracks, as a former
Rolling Stone
writer.
Elizabethtown
, however, is a confusing film, seemingly cobbled together from the remains of four better, stronger scripts, full of utterly unbelievable characters played by actors clearly out of their element. Orlando Bloom in a film without dragons or elves or knights? Kisten Dunst with a (horribly wrong) Southern accent? Despite the actual film's ridiculousness, the film's soundtrack itself is adequate in telling the simple and emotional story Crowe was trying to tell: A story of a young man returning to the South for his father's funeral. It's got Elton John, Ryan Adams, the Hollies, My Morning Jacket (Jim James appears in the film as well!), Tom Petty... You're better off skipping this film and taking the soundtrack for a drive.
BUY IT FROM AMAZON
.
LISTEN:
The Hollies:
"Jesus Was A Crossmaker" [MP3]
Elton John:
"My Father's Gun" [MP3]
Ryan Adams:
"Come Pick Me Up" [MP3]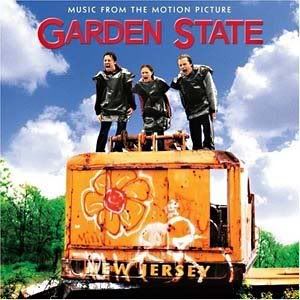 Garden State OST
: This one's obvious, I know, particularly for that one quote that's probably the Shins' least favorite movie quote ever that's appeared in 90% of the articles I've read about them. I don't mean that Zach Braff's directorial debut
Garden State
is the worst film I've ever seen... I'd rather see smaller, ambitious projects like this being made than 80% of the studio fare that's being churned out today, but can we lay off on the melodrama just a little bit? Can we pick one or two horribly depressing incidents instead of creating an amalgam of unbelievable, interlocking tragedies? Anyways, though, Braff's got pretty decent taste in music. The soundtrack features artists like Colin Hay, the Shins, Zero 7 and Simon & Garfunkel, and is perfect for a rainy day stuck inside.
BUY IT FROM AMAZON
.
LISTEN:
Simon & Garfunkel:
"The Only Living Boy In New York" [MP3]
Frou Frou:
"Let Go" [MP3]
Good Will Hunting OST
: A lot of people really love this film, but me? I really can't handle Robin Williams in too many roles. His drippingly treacly, sentimental, carpe diem performances make me want to scream. Ben Affleck, Matt Damon and Minnie Driver do what they can, pulling off strong performances in a rather formulaic plot, but Robin Williams is always in the background tormenting me. What the film does have going for it, uninterrupted by Mr. Williams, is a soundtrack chock full of Elliott Smith, featuring some of his best songs like "Say Yes," "Miss Misery," "Angeles."
BUY IT FROM AMAZON
.
LISTEN:
Elliott Smith:
"Say Yes" [MP3]
Elliott Smith:
"Angeles" [MP3]
Wicker Park OST
: I don't remember what this film was about, but I remember sitting in the theater in awe of its awfulness. Like
The Butterfly Effect
, this film is meant to be a Serious, Mature Role for an actor nobody but 15-year-old girls could take seriously (in this case, Josh Hartnett instead of Ashton Kutcher), and like
The Butterfly Effect
, the result is less-than-thrilling. The soundtrack, however, hints at the audience the filmmakers were misguidedly aiming for: it's got songs and several rare tracks by Mates of State, Mogwai, +/- and the Shins, among other bands I enjoy.
BUY IT FROM AMAZON
.
LISTEN:
Broken Social Scene:
"Lover's Spit" [MP3]
Mates of State:
"These Days" [MP3]
Eagle Vs. Shark OST
: Basically, this is what would happen if
Little Miss Sunshine
and
Napoleon Dynamite
had a baby in New Zealand. A really ugly, unfunny baby starring one of those funny dudes from
Flight Of The Conchords
(no kidding, I really love
Conchords
). The baby's got good taste in music, though: director Taika Cohen compiled a folky, eclectic soundtrack that features Devendra Banhart, the Stone Roses and M. Ward as well as artists who are from NZ.
BUY IT FROM iTUNES
.
LISTEN:
M. Ward:
"Let's Dance" [MP3]
The Stone Roses:
"This Is The One" [MP3]
Phoenix Foundation:
""Going Fishing" [MP3]